US Diplomats Receive Somaliland Foreign Minister's Delegation In Washington.
November 21, 2021 - Written by qoriadmin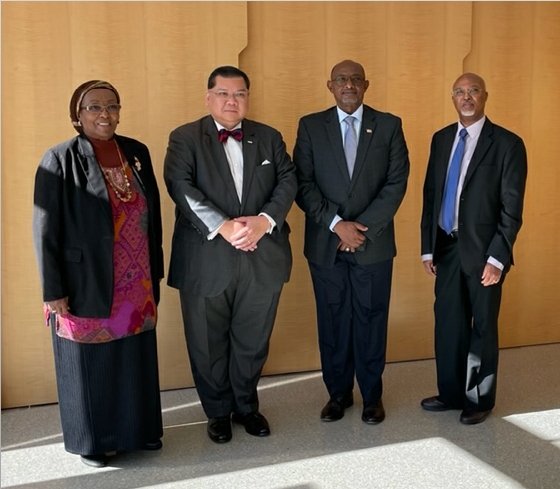 Washington – (QN24) – Former United States Ambassador To Sahil Africa, Ambassador J. Peter Pham, Met With A Delegation Led By The Minister Of Foreign Affairs Of Somaliland, Dr. Issa Kayd Mohamoud.
Ambassador J. Peter Pham, Who Addressed A Wide Range Of Issues On The Issue Of Somaliland's Recognition And Somaliland's Right To Be Recognized By The International Community, Met With A Delegation From The Republic Of Somaliland.
Ambassador J. Peter Pham tweeted after his meeting with the Somaliland delegation: "I am delighted to meet with a visiting delegation from the Republic of Somaliland in Washington, including the Minister. Foreign Affairs Dr. Issa Kayd, Former Minister of Foreign Affairs of Somaliland Dr. Edna Adan & Somaliland Representative to the United States. "
"The world is too late to recognize the reality of Somaliland's independence and democracy," Peter Pham said in a statement. He said.
Meanwhile, in Washington, the Foreign Minister and his delegation were received by former US Ambassador to Guinea And Ethiopia Tibor Nagy.
Tibor Nagy said he was pleased to meet the new Somaliland Foreign Minister, Wishing Him Success In His Quest For Recognition.
"Somaliland Is The Only Source Of Good News In Africa At This Time," He Said.