Somaliland Coast Guard Receives A Convoy Of Vehicles And Equipment Donated By The European Union, Through EUCAP And UNPOS.
November 24, 2021 - Written by qoriadmin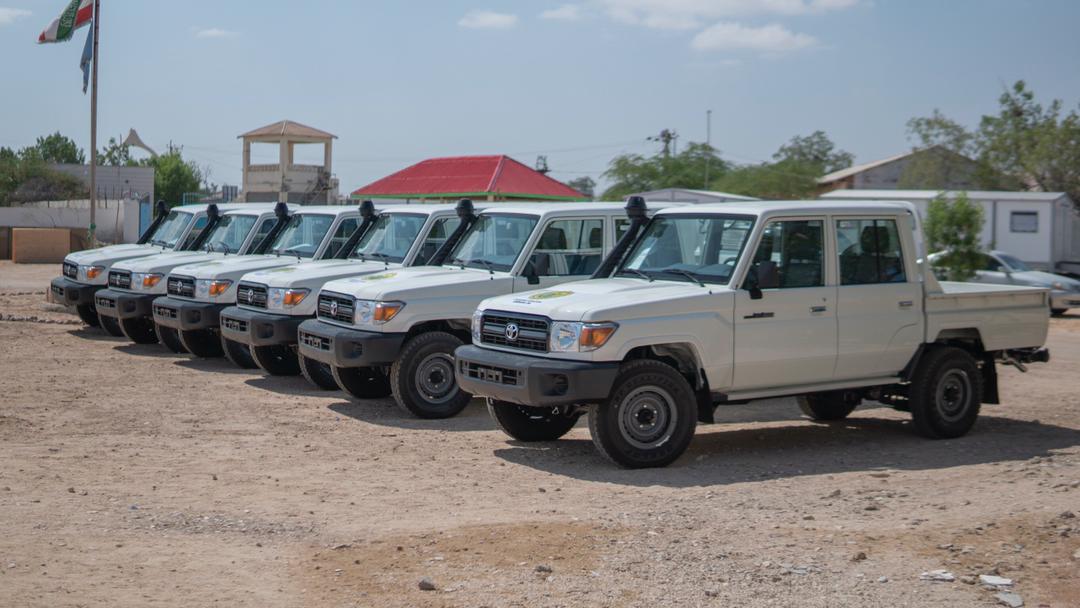 Berbera – (QN24) – The Somaliland Coast Guard Yesterday Received A Convoy Of Vehicles And Equipment From The European Union (EU) Under The Auspices Of EUCAP And UNPOS.
A Ceremony To Hand Over The Donation Of Vehicles And Equipment Including Military Uniforms, First Aid Kits, Telecommunications Donated By The European Union, Through EUCAP & UNPOS At The Army Headquarters In Berbera, Was Attended By The Deputy Minister Ministry Of Interior Security Abdullahi Hussein Mohamed, Sahil Governor, Ahmed Mohamed Hashi.
In A Speech, Senior Officials From UNOPS, The European Union, Sahil Regional Secretary Nuh Mohamed Saleban, Sahil Regional Representatives And Other Dignitaries Were Thanked By The Commander Of The Somaliland Coast Guard, Brigadier General Mohamed Hussein Farah, (Hirane), Who Addressed The Gathering. He Said The Coast Guard had Not Received Any Vehicles From The Aid Agencies For 12 Years.
Commander Hiirane said that they have conveyed to their partners all Their Needs and are Awaiting Further Donations. The Somaliland Coast Guard is Committed To Protecting The Seas, "We Have The Right To Support The United Nations In Building Somalia. "
Various officials who spoke at the event welcomed the support of the Somaliland Coast Guard and called for it to be built on all fronts to fulfill the Responsibilities of its people And Country.
Speak Ms. EU Commissioner Laurianne COMARD Said The EUCAP Mission Had Long provided substantial Support To Enhance The Coast Guard's Capacity For Training And Mentoring.
In His Closing Remarks, Deputy Minister Of Security Abdillahi Hussein Mohamed Praised The Work Of The Coast Guard, Which He Said Has Protected Somaliland Waters From Encroachment.